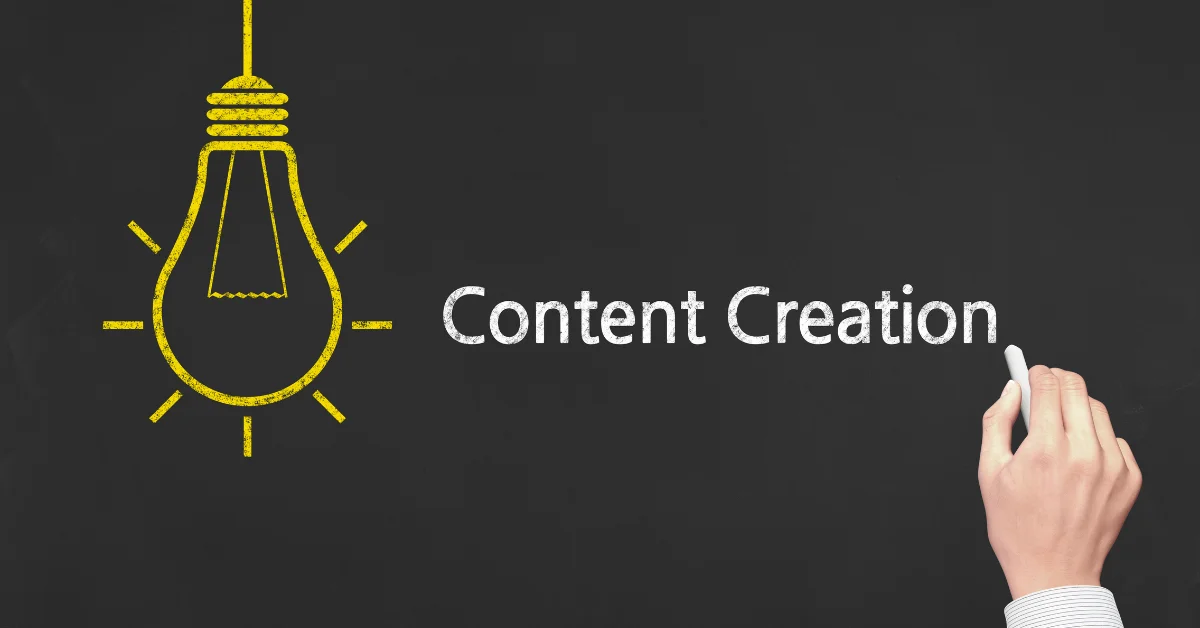 The content creation process is more than just writing. It's about creating a story that's engaging, interesting, and informative. You have a lot of great ideas. But sometimes, it's hard to turn those great ideas into dynamic content. It's not that you don't know what to do—you just don't know where to start.
In this article, we're going to walk you through a content creation process that is simple, straightforward, and most importantly, effective. We'll start with some essential tips on ideation, and then move on to the actual creation process. By the time you're done reading, you'll be ready to create content that wows your audience.
WHAT IS CONTENT CREATION IN DIGITAL MARKETING?
Content creation is creating content in the form of visuals, videos, blogs, and other media that your audience can interact with in order to engage with your brand. It can also be used to drive traffic to your website, promote products and services, or generate leads. Content creation allows you to showcase your knowledge and expertise while also entertaining and informing readers.
The cornerstone of digital marketing is content creation because it builds credibility and trust with potential customers who are looking for answers to their questions or solutions to their problems. It helps you market your business by getting more eyes on what you have to offer, giving potential customers something valuable in return for their time spent reading or viewing content.
Creating engaging content requires a plan that puts all the pieces together – from brainstorming ideas to writing articles and other collateral like videos and graphics – and then publishing it on different channels such as social media, search engine optimization (SEO) campaigns, or email marketing. Understanding the content creation process is essential if you want to create impactful content online that attracts more attention from the right people.
HOW DOES CONTENT CREATION FOR DIGITAL MARKETING WORK?
Content creation for digital marketing isn't as daunting as you might think. It all starts with the problem you are trying to solve and who your audience is.
KNOWING YOUR AUDIENCE
Knowing your audience, their interests, and their challenges is key to creating successful content.
PLANNING
Once you know what kind of content to create, it's time to start planning. This could be a simple list of topics or a more detailed strategy that outlines when to publish content, what platforms you'll use, and the goals you want to achieve.
EXECUTION
The next step is to create the actual content, which could involve anything from writing blog posts to creating videos or podcasts. You'll want to keep the tone and language in mind when creating content so it resonates with your target audience.
USE OF MULTIMEDIA IN CONTENT
And don't forget about visuals! Content with visuals and other multimedia elements tends to perform better than plain text. You can use professional images, videos, or even illustrations—whatever works best for your message.
DISTRIBUTION OF CONTENT
Once the content is ready, it's time for the final step: distribution & promotion! By utilizing various channels like email newsletters, social media platforms, forums, and so on, you can increase your reach and get even more people interested in your message.
WHAT ARE THE STEPS IN CONTENT CREATION?
There are a few basic steps in content creation. But before we get to that, let's start with what you're trying to achieve with your content.
That might seem like a silly question, but it's not. Without a target, you're shooting in the dark. What are you trying to achieve with your website, blog, social media profile, or marketing campaign? More website visitors? More leads? More customers?
IDEATE
Once you know where you're trying to go, the next step is coming up with content ideas that will help you get there. This is where your creativity and imagination come in handy. Fortunately, there are plenty of sources of inspiration out there. You can find helpful tips in this article.
STRATEGIZE
Once you have a few ideas, it's time to start planning and strategizing. This is where your content calendar comes in handy. This is a document that lays out your editorial plan for the month or quarter. It includes the topics you'll be covering and the types of content you'll be creating (blog posts, videos, social media posts, etc).
Creating a content calendar is an essential part of any content marketing strategy. It ensures that you're always on track and that your content is consistently high quality and relevant to your target audience.
IMPLEMENTATION
The implementation stage of content creation is the process of putting your content into action. This is where you get to see whether or not your content is actually useful, and if so, how easy it will be to use.
HOW TO PLAN CONTENT FOR MAXIMUM IMPACT?
Now that you understand the basics of content creation, it's time to plan your content for maximum impact. This begins with understanding your audience. Who are they, and what do they want or need? Once you know this, you can begin to create a content plan that delivers the right information in a way that engages them.
Think about the purpose of your content. What do you want people to do as a result of reading it? Whether you want them to buy a product, sign up for a service, or simply learn more about your brand, be sure to design your content with this goal in mind.
Once you have a general idea of what you want to say, it's time to start planning out the specifics. What format will work best for your content? Will it be a blog post, video, infographic, or something else? What tone should you use? What are the key points you want to make?
Once you have all of this worked out, it's time to get creative and start drafting your content. Be sure to keep revisions in mind; you may need to tweak things as you go along. But by following these simple steps, you can create content that will wow your audience and helps your business succeed.
TIPS TO CREATE ENGAGING TITLES AND HEADLINES
Now that you understand the basics of creating dynamic content, it's time to start thinking about your titles and headlines. These are essential for drawing in your audience and making them want to read more.
Here are a few tips for creating engaging titles and headlines:
Keep them short and to the point
Evoke curiosity or interest
Make a promise that you can deliver on
Use strong adjectives and verbs
STRATEGIES TO CRAFT INTERESTING AND INFORMATIVE BODY COPY
You're writing your content, but how do you make it interesting? The key here is to create a body copy that is informative, interesting, and easy to read. Here are some strategies you can use:
ADD VISUALS:
Use images, videos, infographics, or data visualizations to make your content more appealing.
WRITE IN SMALL SNIPPETS:
Break up your text into shorter segments for easier reading.
INCORPORATE INTERACTIVE ELEMENTS:
Add pop quizzes, surveys, or polls to engage your readers.
HIGHLIGHT IMPORTANT POINTS:
Use bold fonts, headings, and bullet points to emphasize the key takeaways of the article.
INCLUDE A CALL TO ACTION:
Invite your readers to take action such as joining a mailing list or leaving a comment.
These strategies can help spark conversation and engagement with your audience, just be sure not to go overboard by cluttering the page with too many elements. Remember that visuals should support the content of the article, not distract from it!
WHY VISUALS SHOULD BE AN IMPORTANT PART OF THE CONTENT CREATION PROCESS?
To make your content stand out, visuals should be an important part of your content creation process. Why? Because visuals are a great way to grab attention and keep readers engaged and make your social media marketing and presence stand out among others.
People are more likely to remember visual information than written words. That's why infographics, videos, and images can be so effective in helping you communicate ideas to your audience. Visuals can also help break up large blocks of text and add a bit of whimsy to the piece, which makes it more enjoyable to read and leaves the reader with a positive impression.
Not sure how to incorporate visuals into your content? Start by looking for free stock photos or videos that you can use. You can also create custom visuals like charts, graphs, diagrams, or illustrations that relate directly to what you're talking about in the article. By taking the time to add visual elements to your content creation process, you're sure to create something truly memorable for your readers!
HOW TO MEASURE THE SUCCESS OF YOUR CONTENT CREATION PROCESS?
Once you have created content and are sharing it with your audience, you need to measure the success of your content. How do you do this?
USER ENGAGEMENT
The most effective way is to measure user engagement with your content. You can track things like shares, views, and comments, but one of the best ways to measure engagement is through metrics like time on the page. This will tell you how often users actually engage with what you create.
ANALYTICAL TOOLS
Besides user engagement metrics, there are other ways to measure success. You can use analytics tools, such as Google Analytics or an audience survey, to get an idea of how well your content performs.
COMPARE AND CONTRAST
If you're looking for more in-depth data on how users interact with your content, consider using heat maps or A/B testing to compare different versions of the same piece of content and see which one resonates best with audiences.
All these methods will give you a better picture of how successful your content creation process actually is. Understanding these metrics will help you refine and improve the process so that your next batch of stellar content wows and amazes viewers.
CONTENT CREATION TOOLS
Now that you know the essential steps in establishing your content creation process, let's get into the details of how to turn those ideas into engaging and dynamic content.
The internet is full of powerful tools that can help take your content creation to the next level. Here are a few of user's favorites:
For graphic design, use Canva or Adobe Photoshop.
For video and animation, Animaker or Biteable.
For audio recording, Audacity is a great free choice.
To keep all ideas in one place, organize your projects with Notion.
No matter what tools you use for content creation, make sure you have the basics covered including graphic design, video/animation, audio recording software, and a project management system to stay on track with your deadlines and campaigns.
CONCLUSION
It can be a challenge to come up with fresh, new ideas for content that will engage your audience. But by following a few simple steps, you can turn drab content into dynamic content that will keep your readers coming back for more.
Start by coming up with a topic that is relevant to your audience. Next, brainstorm a list of ideas that will help to expand on that topic. Then, put together a rough outline of your article. Once you have a draft, take the time to polish it up and make it shine. And finally, make sure to share it with your readers!